PPC Advertising  – Set-Up and Optimize PPC Campaigns on Amazon Japan
We help you to get started and continually improve your PPC advertising campaigns. We help:
1. Set-up PPC Keyword Campaigns
2. Perform Detailed PPC Analysis
3. Save Money on Clicks
Pay per Click (PPC) Advertising Set-up
Advertising your product on Amazon's network allows you to to boost sales and gather keyword data quickly. This means you can improve your product listing and improve your sales rate fast.
Our service includes:
Analysing English Data to select the right keywords to bid on in Japan.
Brainstorming other keywords with Japanese native speakers for your product.
Competitor analysis to decide which keywords to advertise for.
Setting up campaigns and budgets for your different products and skus.
Consulting what budget is appropriate for your products.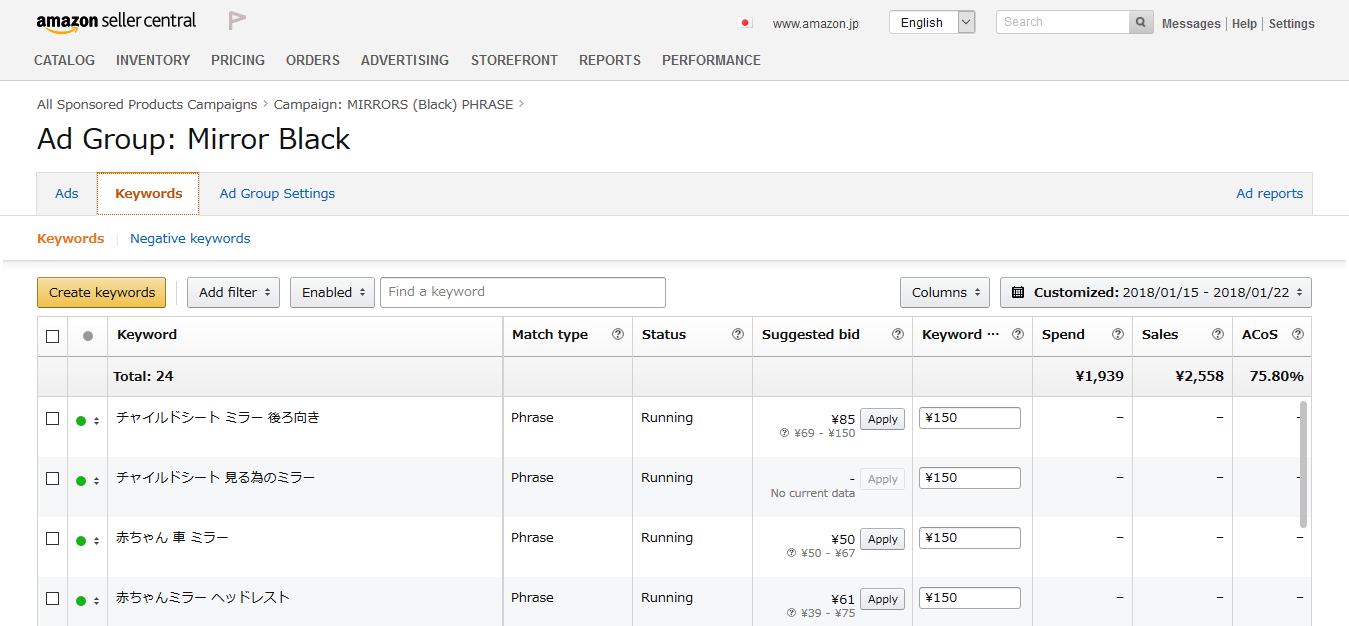 Detailed PPC Analysis
We look at the keyword data from PPC advertising campaigns to see which are the most important keywords for your product.
We use data from sales and advertising to:
Move the most important keywords to the title and bullet points.
Make sure the product is ranking organically for relevant keywords.
Discover new phrases and keywords and add them to the listing.

Save money on clicks
We use our own software to analyse PPC advertising campaigns to constantly iterate and improve them.

Mine for effective keywords – We analyse the data generated from automatic PPC campaigns to make your campaigns more effective.
Broad⮕Phrase⮕Exact – We look at the data and iterate the top performing keywords for lower cost and improved performance.
Add Negatives – We make sure keywords that are not working well are added as negative keywords so that you don't waste money on them.
Detail Driven – Japanese has 3 alphabets so it's harder than in English to do this analysis. A word written in one way might be bringing in lots of sales, yet the same word in a different alphabet might be totally ineffective. We take pride in this level of detail.
FREE SELLER GUIDE & 16 STEP LAUNCH PLAN

We wrote this guide to help you better understand selling on Amazon Japan. With this information, you can make an informed, intelligent decision as to whether selling on Amazon Japan might be a good fit for you.
Whether you've got 1 or 1,000 products, this guide will help you understand more about selling on Amazon Japan.
Even if you're not ready to start yet, this is an unmissable reference.
In the Seller Guide you'll learn...
Why selling on Amazon Japan is a fantastic opportunity.
5 Misconceptions about Selling on Amazon Japan.
How to avoid translation mistakes.
The 16 Step Launch Plan includes...
16 sequenced emails with direct actionable tips;
How to carry out research;
Advice on creating your strategy for success in Japan;
How to set-up your account and listings right;
Guidance on getting Brand Registered.