How to Sell on Amazon Japan – A complete case study and step by step guide to getting started.
How to SUCCESSFULLY Sell on Amazon Japan
Below is a (no steps missed) case study in to how we worked with Kid Transit to successfully started selling on Amazon Japan. It is an in-depth guide, explaining all the steps that we went through to sell on Amazon Japan and how we got Kid Transit to the BEST-SELLER spot in their primary category.
How to Sell on Amazon japan – Checklist
Sign up with an Amazon Japan Seller account
Create a Product Listing (via the Inventory page)
Choose fulfilled my Merchant or fulfilled by Amazon (FBA)
Print any Amazon labels (if using FBA)
Create an inbound shipment to Amazon (if using FBA)
Print inbound shipping labels for Amazon (if using FBA)
Ship products to the correct Amazon warehouse (if using FBA)
Set sale price
Advertise your product listing (e.g. Amazon Sponsored Products PPC)
Post products to customer when a sale is made (if fulfilled my Merchant)
The feature length selling on Amazon Japan guide below includes the good, the bad and the ugly as well as sales figures and advertising costs too. It will give you great insight from our experience and help you to decide if selling on Amazon Japan is worth considering for your brand.
It's about 3,500 words so will probably take you 20 minutes or so to read and fully digest.
If you don't have that time now, we can send you it as a pdf for you to read later.
This extended case study is for people who sell on Amazon or own a brand.
It's especially relevant if you're:
a private label seller worried about your profit margins being squeezed.
a brand owner wanting to test a new market.
looking at ways to reduce risk and want to have your "eggs in different baskets".
worried that competition on Amazon is increasing.
curious what it's like to sell on Amazon Japan.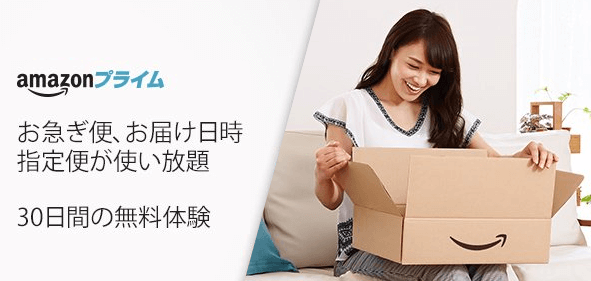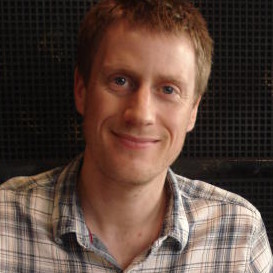 Neil Curtis
Amazon Specialist
I've been running affiliate websites for many years and launched a private label business on Amazon UK in 2015 where I sell a range of products in Baby & Child travel.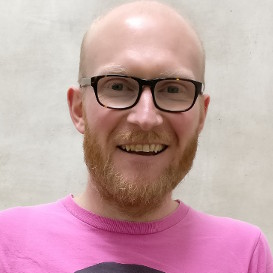 John Cant
Japan Market Analyst
I first visited Japan in 2005, have lived there for 5 years and visit regularly for business. I have been involved in e-commerce for 6 years including creating software for e-commerce platforms and creating an online marketplace in the UK.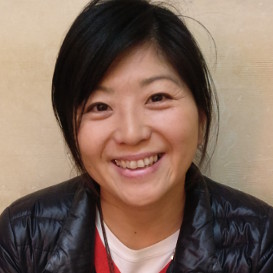 Kayo Wakasugi
Translation, Logistics, Copywriting & Market Analyst
Having first moved to the the UK in 2000 I am fluent in English, but more importantly, understand what products are a good fit for the Japanese market. I moved back to Japan in 2004 before returning again to the UK and now split my time between both countries.
It's about 3,500 words so will probably take you 20 minutes or so to read and fully digest.
If you don't have that time now, we can send you it as a pdf for you to read later.
What's the best way to grow my business?
I've been running a private label brand on Amazon UK for 2 years. Things are going well. Sales are growing and the business makes a good profit.
But I want to grow my business further. I know that nothing lasts forever. I need to be proactive and find superior opportunities.
Generally speaking, competition from other sellers is increasing on Amazon UK. Compared to when I started there are at least double the number of sellers with similar products to mine. Fortunately, so are customer numbers and there's still demand for my products. But it does put extra pressure on my prices and profit margins. There is a limit of how low I am willing to drop prices, so I must find ways of growing my business. But what is the most effective way to grow it? Should I sell on other channels, sell in other countries or increase my range of products?
I love Jay Abraham's ways of thinking and particularly this mantra:
"There are only three ways to grow any business, just three."
Increase the number of clients, get more new prospects into paying customers.
Increase the average transaction, get each client to buy more at each purchase.
Increase the frequency that the average client buys from you, get each customer to buy from you more often.
I decided to prioritise number 1 – increase the number of clients. I've put plenty of work into finding great products and am confident that these will sell in other markets too (though I am also expanding my range by creating related products to cross-sell to current customers).
The next job was to analyse where to find these new customers.
Which New Market?
I love selling on Amazon with FBA (Fullfilment By Amazon) as it's so easy. So I decided the best way to increase my number of clients was to sell in other geographical areas on Amazon. But Where? On Amazon UK there is an option to allow you to sell to the EU so I ticked that box one day. It generated a few sales – initially in Italy, and then things started to pick up in Spain, France, and Germany. These extra European markets are currently adding around 30 extra sales per day (approximately £350 per day additional revenue) with very little effort.
This showed that simply increasing my reach (rather than my product range) increased profits significantly. This got me thinking about increasing my efforts in these European markets (better translations, advertising etc.) as well as looking into Amazon in the USA and Japan due to their size.
I decided to do some simple analysis to help me decide which market-place to try:
Country

Pros
Cons
France, Spain & Italy
1. Already generating sales so I know there's demand.
2. Euro currently strong vs £
1. Multiple languages to translate
2. Big competition from EU sellers
3. Pay VAT
4. Don't speak the languages
Germany
1. Large market - 3rd largest Amazon marketplace
2. Euro is strong vs £
1. Big competition from EU sellers
2. Pay VAT
3. Don't speak German
USA
1. Huge Market
2. Pay for stock in US$ so reduces risk of devaluation of £.
1. Enormous competition
2. Need to have high number of reviews to get sales traction
3. Taxes are complicated
Japan
1. Large potential market - 4th largest Amazon marketplace
2. Yen is strong vs £
3. Fastest growing market
4. Relatively low competition
5. Taxes seem easy
1. Don't speak Japanese
2. Is it going to be easy for Chinese manufacturers to sell directly to this market?
3. Finding out about legal stuff / bureaucracy could be difficult.
So based on that analysis my priority for each marketplace is:
| Country | Priority |
| --- | --- |
| Japan | 10 |
| Germany | 20 |
| France, Spain & Italy | 30 |
| USA | 40 |
Once I decided to prioritise Japan (and possibly Germany) I needed to find some help with the language.
I work in a co-working hub called C4DI where there is a mix of different expertise and like-minded business people. I asked around to see if anyone could help with growing my reach into Germany and Japan, which is when I met John.
I discovered that John used to live in Japan and had worked on a translation project for an apparel business selling on Amazon Japan. It sounded like a great fit and we discussed how to do the research and what was needed to get my products on sale on Amazon Japan. He also had some connections to translators, which is how I met Kayo.
After another couple of meetings (and time to think / percolate ideas in between), we agreed to formalise the venture into a proper business. Rising Sun Commerce was born.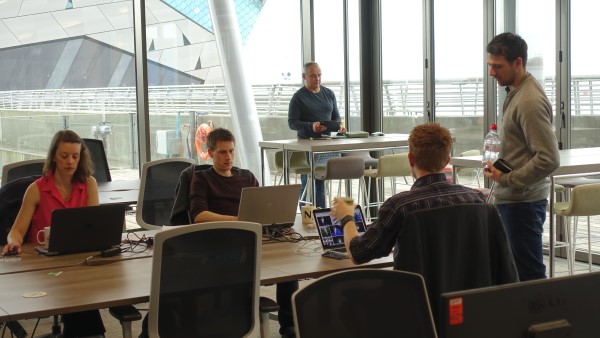 Neil and I outlined the steps we needed to go through:
Get products manufactured.
Get products packaged in Japanese packaging.
Get a shipping company to ship them to Japan.
Do customs paperwork & pay import duties.
Set-up an account for Amazon Japan
Create a listing for the product
Decide pricing and forecast sales figures
Set-up advertising
Get some positive reviews
Streamline advertising
Review advertising & iterate to improve it.
Review product listing & iterate to improve it.
Review pricing and sales figures
Decide when we need to order more stock (if the project is successful)
Go back to step 1, but the second time we can miss out many of the steps as we have done the work already.
It's about 3,500 words so will probably take you 20 minutes or so to read and fully digest.
If you don't have that time now, we can send you it as a pdf for you to read later.
This was straightforward. I have a great relationship with my supplier in China so I ordered 1000 units of my best selling product. I explained that I was going to be selling them in Japan so I needed the packaging to be different. My supplier seemed excited at this prospect and told me that they hadn't sent anything to Japan before as his customers are mainly based in Europe and USA.
I interpreted this information in two ways:
This was a sure sign that I was getting away from my high competitors and reinforced my decision to choose Japan.
The other perspective – Japan isn't a lucrative market and hence no-other private labellers were selling there.

John & Kayo translated my packaging and I sent the new version to my supplier for printing when the product was ready.
We had to make sure that the right barcodes were printed on both the individual product boxes and also the large shipping carton in which 24 products were packaged together. This is vital in order for Amazon to track them properly at their fulfilment centre. Amazon supply these barcodes and any mistakes could be very costly. For example products could have to be sent back to China for re-labelling at our expense.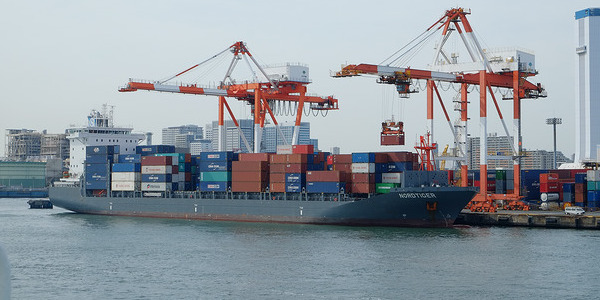 Neil and I both investigated some shipping options. Neil enquired with the freight company who ship his products to the UK. I investigated some shipping agents in Japan who specialise in shipping from China to Japan.
Sometimes the pricing data was in a different format and with different currencies, so I created a spreadsheet to compare the pricing of different companies. That way we could accurately analyse which quote was the best.
After anlysing the quotes, we chose a Japanese company who specialise in shipping from China to Japan. Not only were they the best value, but as a specialist on these routes, they should give a better service too.
We discovered that we needed a special document called an "importer of record" to get the product through customs. This needs to be a person who is based in Japan who can "sign" for the products. Whilst they don't need to physically go to the port to accept the shipment, they do need to be in Japan.
Kayo had a contact in Japan who agreed to act as importer of record for us when the time came.
We checked the Japanese customs website to find out what import duties would be due for our particular products. It was quite confusing as there are thousands of product codes with very similar descriptions so it was hard to determine which category our products would fall into. In the end we decided to just accept that it would need to be paid. We had a good idea it would be around 6% of the value of the products + shipping costs.
The shipping company arranged a courier to send our products to the Amazon Fulfilment centre. Just like in the UK, we had to create an inbound shipment for the FBA centre before we could direct our courier where to deliver the products.
This was straightforward to do and identical to the process in the UK. The seller panel is all in English so in theory you don't need to know any Japanese to do this. Most of the address was in Japanese but John helped guide me a little but I created the inbound shipment myself. In fact, it doesn't really matter if you can understand the address or not. The only advantage being that you have more confidence and better understanding of where the products are headed.
In the UK I have always had my products delivered on pallets rather than in individual cartons. It means that there is less risk in cartons getting lost along the way but it also means that the pallets need to be wrapped up properly at the port by the shipping company. And extra barcodes are added to the wrapped pallets.
In Japan, our shipping company didn't give us the option of delivering them by pallet and I was bit confused by this at first. I was also worried that some cartons might go missing. Everything turned out fine and by not having them on pallets meant that I didn't need to arrange these additional barcodes to be stuck on the bundles so it was easier to have them delivered in cartons.
My supplier labelled the cartons when they packed the boxes, so this was straightforward to arrange.
I decided to use the same ASIN number for my UK product as our Japanese version. That way we could easily import the text and images from the UK listing and then overwrite Japanese text.
Text
To decide on a good title – We searched for similar products using what we thought was the best phrase and read through all our competitors' titles. We compared those with our UK version and created our product title based on a mix of these 2 things.  We had no data, so we just went by instinct here.
For the first version of the listing Kayo simply translated the text from English into Japanese without changing any of the key message. We didn't translate word-for word, but tried to write the copy in a natural way to cover the key point of each section of the listing  the same as it was in English.
Images
Some images we used were the same as the UK version but some of the images had text annotations to highlight a particular feature. We translated these annotations into Japanese and created new images with Japanese text. I imported these into the listing and removed the unnecessary images which had been imported from the UK listing.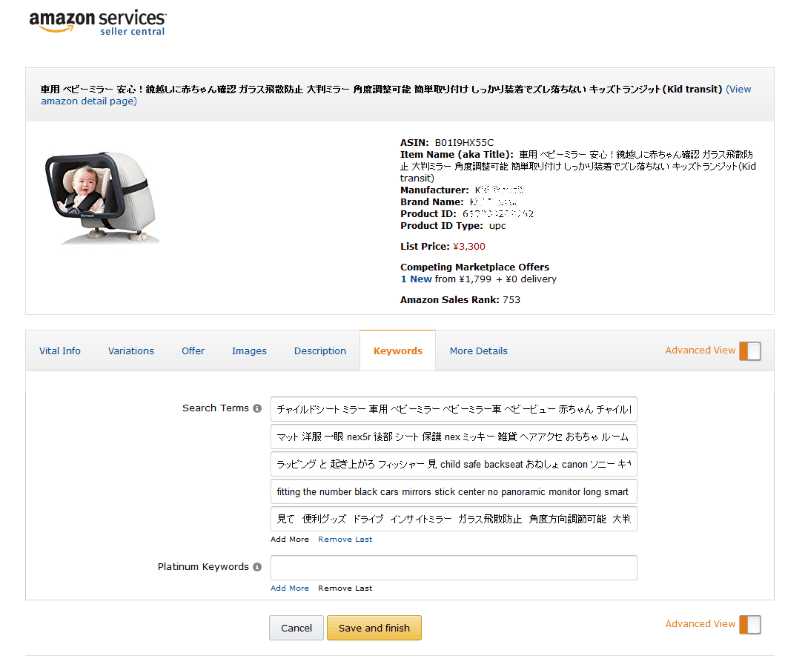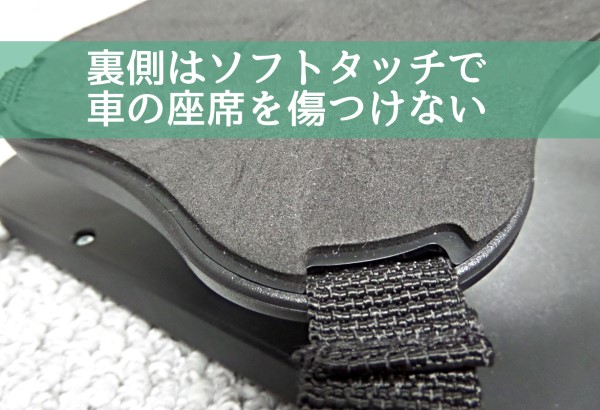 Keywords
We used Google's keyword planning tool to search for related keywords in Japanese. There wasn't anything magical about it, we simply pasted these into the keyword fields in the backend of the listing.
Advertising
We set-up and auto-campaign to draw traffic to our listing using Amazon's campaign manager tool. This was straightforward to set-up. The panel is in English and the auto campaign uses the keywords from your listing to bid. This isn't the most cost-effective way of advertising in the long term, but it's really useful to build up a picture of what potential customers are searching for.
Our products arrived and the listing went live on 1st October 2016.
On the 2nd October we sold our first item. For 2,290 Yen (= £16.35). This is around 15% higher than the price of the product in the UK. A great start – Boom!
On 30th October we saw more promising signs as we had our first day when we sold 3 items in one day.
As you can see from the graph below, sales trickled in over the next few weeks, thanks primarily to our auto-advertising campaign and we were selling on average 3 per week. Not quite hot cakes, but a promising start given we had no reviews.
In November, our sales increased very slowly. There were signs of encouragement when we had 2 days of 4 sales per day. But they certainly hadn't taken off like a rocket.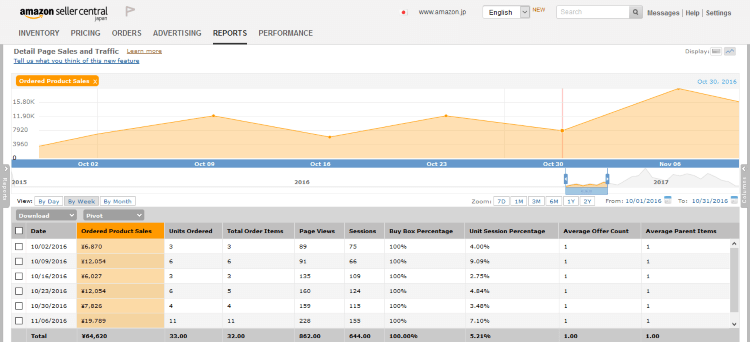 We'd been working hard to generate feedback from customers. We hadn't found any autoresponder software for Japan, so we'd been emailing customer's manually with a 2 step campaign:
Email 1 – sent 6 days after the product was dispatched. This was to check that the customer is happy it has arrived OK.
Email 2 – sent 2-3 weeks after the order was dispatched. This was to check that the customer is happy and to ask them to leave a product review.
In the early days of this process we saw 3 seller feedback (all positive) written for us but no product reviews. Potential customers browsing our product listing don't see the seller feedback and it's the product reviews that really help sales. It was quite frustrating as we were getting impatient to increase sales and thought that this was holding us back.
We're not sure why we had received this seller feedback instead of product reviews. But since we were new sellers, Amazon was probably checking up on us by sending out their own seller feedback requests. The seller feedback mentioned the product rather than us, so I think customers often don't realise the difference. Fortunately, all of the seller feedback was good so we felt confident that positive product reviews would arrive soon.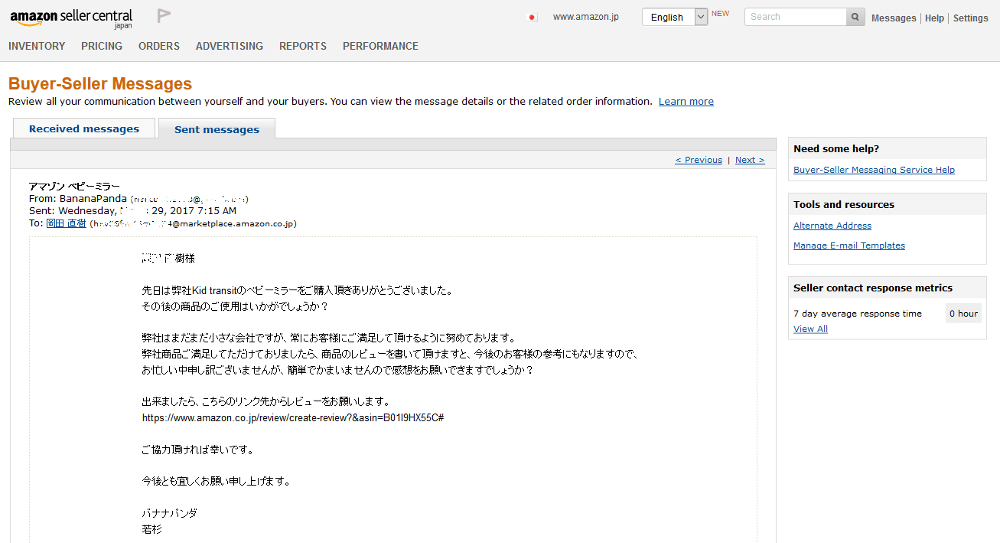 However, we were getting more concerned that we still didn't have any positive product reviews so I reached out to 2 friends in Japan to see if any wanted to "buy" our product in exchange for leaving a review for us. They both have a baby and the product would be useful for them. One friend said she felt uncomfortable doing this. Another friend agreed.
We offered to refund 2 products in exchange for a review, but he said that it would be genuinely useful to his family and he'd rather buy from me than from someone else. He duly ordered and I gently reminded him to leave a review a couple of times before he did. This took a couple of weeks from proposing the idea to him leaving a review. During that period thanks to my work contacting buyers, we managed to generate a couple of reviews organically. One 4 star and one 5 star. We were gaining momentum!
I noticed that if I sent the emails on a Saturday or Sunday morning (Japan time) then they generated more reviews than on other days. Since our data set is still quite small, this may be coincidence. But my hypothesis is that because our product is for busy families, they have more time on a weekend to respond to our review requests.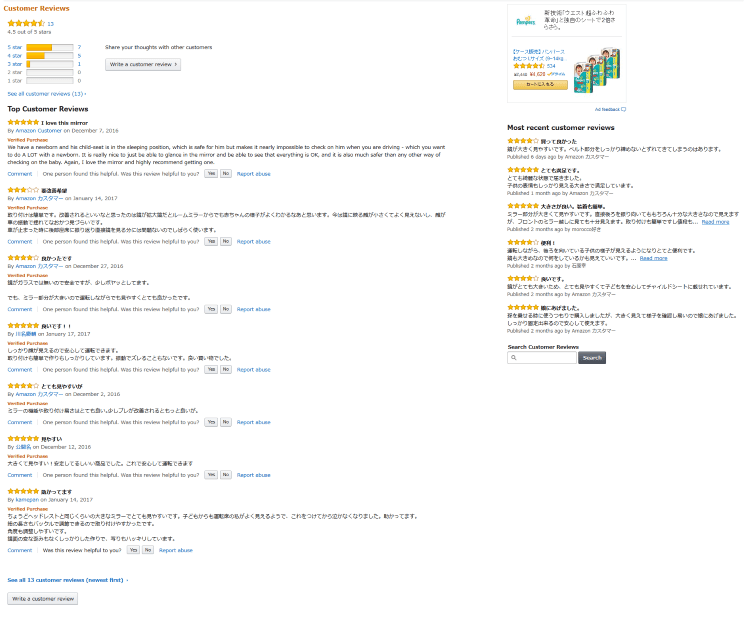 As part of this analysis and looking at how we can improve sales more generally we realised that we qualified for an enhanced listing. An enhanced listing meant we could use extra images and allowed us to tell the story of the product better.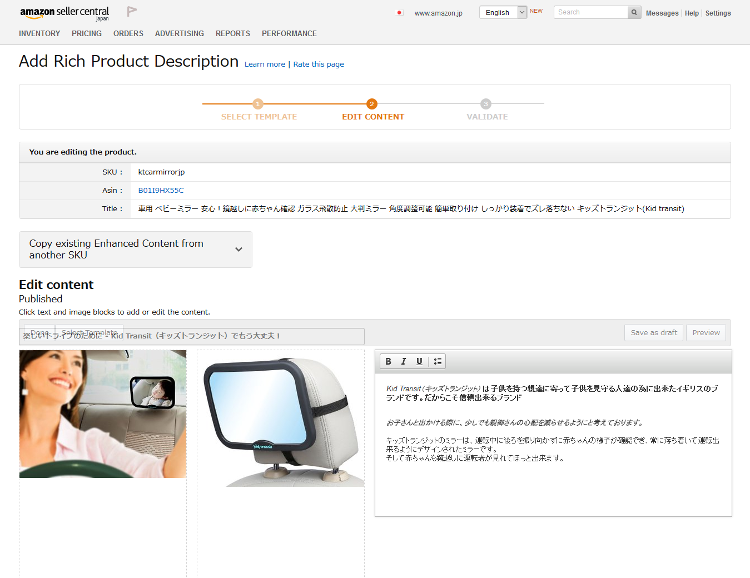 So we set it up. Sales didn't jump up, but actually went down! On closer inspection, we realised that we'd lost a big chunk of text from our listing.
When we set-up our advanced listing we didn't notice that the original text was removed. We thought that this stayed and our new content was added to the content that was already there. So we just added some simple text to match our new photos. Instead most of our main points had vanished so we had a very lonely looking listing, along with some images.  We were not really telling the product "story" since we'd lost most of the text. No wonder people weren't buying from us. Also, since our listing now had less text, we had lost many of our keywords and so were being found less often. We quickly fixed it and updated the text to complement the new images.
Around this time we also decided that one of our USP's could be that our product fits both Japanese small cars, as well as regular cars. Whilst it's true that our competitors products also fit these types of cars, it's always good to try to highlight your product's unique features to make them stand out. Especially when no-one else is doing so.
(As a side note, here's a wonderful case study of how Schlitz Beer became a market leader thanks to improving their copywriting and telling the story of their product.)
Storage fees
In December, we noticed that Amazon had charged us a lot of money for something. At first, we couldn't work out why. On closer inspection, we realised it was for storage fees. Land prices in Japanese cities are quite high (especially compared to USA, though less so when compared to UK). So Amazon Japan's storage fees are higher than other countries. In fact they're around four times higher than UK storage fees!
We quickly analysed our pricing structure and built this new information into our pricing forecasts. For our product they cost us 1.113 Yen per day, per product. That doesn't sounds much, but it quickly adds up significantly.

Suspended Listing
In February, we received an email into our seller central account (in Japanese) asking us to verify that we were the brand owner. We thought it was spam and dismissed it. A month later and our product was suspended. We received another email from Amazon (in Japanese) explaining that as we hadn't verified that we were the brand owner, they had deactivated our listing.
We responded straight away in English by opening a "case" with the seller support to submit the requested documents. We didn't hear back from them 24 hours later so chased them up again in English. We still didn't get a response within 24 hours so we contacted them again, this time in Japanese. we were told that we needed to reply to the initial email in order for the problem to be resolved. We duly replied to the original brand ownership confirmation email (in English) with the required documents. We had to provide proof that we had purchased the products from the brand owner. I sent our invoice and the contact details of the the brand owner (so Amazon could check themselves with the brand if they thought necessary).The issue was resolved the next day and our listing was restored.
When the first email arrived, Kayo suggested checking with Amazon staff if the email was genuine so we are kicking ourselves that we didn't act straightaway.
Autoresponder Software
Since we started we've discovered 2 software solutions for autoresponders for Amazon Japan, BQool and Amachete. We started using BQool and it's saved us a lot of time. But we did notice that our review rate decreased when we automated it. I'm not sure why that should be the case.
Our sales hadn't progressed much in March, so early in May we reviewed all aspects of what we were doing and tried to improve everything.
This included trying to improve:
Product Title
Images
Copy
Advertising
Pricing
We tried to look at our listing with fresh eyes and made a big list of things we thought we could improve. The problem with this approach is that it's not very scientific and if we were to see a change in sales, then we wouldn't know what change was responsible for it. But, by "improving" everything, then surely we would see an overall improvement and we could refine and A/B test things in more detail later. After all, our goal is for more sales, so surely that should take precedence over minor A/B testing, right?
So where are we now – In less than 4 weeks after we'd made the changes we've seen a massive upsurge in sales and hit the No 1 spot in early June. Wow!
During this period where we were "working hard" to improve sales, we dropped our price by 25% to entice price-dependent shoppers too. Also, we noticed that the No.1 seller went out of stock, which undoubtedly helped our cause.
But since we've reached No.1 we've since increased our price (strategically to the minimum price for free delivery) and are now testing how that is affecting sales. If we can increase our price and stay number one seller then we will have a very profitable situation indeed. Fingers Crossed.
What have we learnt from selling on Amazon Japan?
A Lot!
Storage fees are expensive – build them into your pricing forecasts (whether in Japan or elsewhere) and investigate them fully before you plan to send lots of stock to the warehouse.
Start with smaller quantities in the FBA centre (or perhaps even self-fulfil orders initially as we did with another product).
Our first batch is on target to be profitable.
Keep your eye on the ball – Read Amazon's emails properly and if in doubt, ask the seller support team.
You can create enhanced listings from the start.
You need to know someone in Japan to act as an importer of record.
Stay on top of your advertising and put alerts into your calendar when your campaigns run out.
Review your listing regularly.
Have a methodical approach to reviewing your listings and advertising.
Plan ahead for holidays – If we had known there was going to be a spike in sales (and particularly in the conversion rate) in late December we could have planned some other marketing and increased our advertising budget.
Would we do it again and what would we do differently?
Yes, we're pleased with the results so far from this batch of products and are in the process of sending more products to Amazon Japan.
In fact, we've just ordered a batch of different products to be manufactured and will be adding them to our Japan portfolio. It won't be long before we need to replenish our mirror stocks too. But now we have some reviews, some data and a sales history, our next batch should be even more profitable.
But this time we will properly build storage fees into our costs / sales forecasts.
FREE SELLER GUIDE & 16 STEP LAUNCH PLAN

We wrote this guide to help you better understand selling on Amazon Japan. With this information, you can make an informed, intelligent decision as to whether selling on Amazon Japan might be a good fit for you.
Whether you've got 1 or 1,000 products, this guide will help you understand more about selling on Amazon Japan.
Even if you're not ready to start yet, this is an unmissable reference.
In the Seller Guide you'll learn...
Why selling on Amazon Japan is a fantastic opportunity.
5 Misconceptions about Selling on Amazon Japan.
How to avoid translation mistakes.
The 16 Step Launch Plan includes...
16 sequenced emails with direct actionable tips;
How to carry out research;
Advice on creating your strategy for success in Japan;
How to set-up your account and listings right;
Guidance on getting Brand Registered.