There is not a one size fits all approach to Amazon advertising, however there are standard good practices that can be applied to most accounts when launching on Amazon Japan.
Strategy
Before we start creating advertising campaigns we put in a considerable amount of thought to ensure we are creating the best campaign structure that aligns with your long-term strategy in Japan. This could mean there is a focus on brand awareness and new customer acquisition, where the profitability will come later with repeat customers, or alternatively the strategy could be profitability as quickly as possibly where most customers only make one purchase.
Once the strategy is finalised we have many different campaign types we can take advantage of on Amazon Japan. These are discussed below.
Amazon Advertising Campaign Types
If you partner with Rising Sun Commerce we will create and manage the following advertising campaigns. The timing of these campaigns and whether certain campaigns are implemented at all depends on your product range, inventory, advertising budget, sales goals, and whether you are brand registered and have a Brand Store on Amazon.
Below are the standard Amazon advertising campaign types we implement.
SP – Sponsored Products
SD – Sponsored Display
SB – Sponsored Brands
General campaigns
SP Automatic
SP Manual Broad (non-branded search terms – from keyword research)
SP Manual Exact (non-branded search terms – from keyword research)
SP Product Targeting (Competitor ASINs)
SP Manual Phrase (for branded terms)
SD Retargeting (for customers who visited your product listing)
SP Product Targeting (Competitor ASINs)
SD Product Targeting (Competitor ASINs)
SP Category Targeting
SD Category Targeting
If selling more than one related product
SP Product Targeting (Defensive/ Cross-promotional campaign)
SD Product Targeting (Defensive/Cross-promotional campaign)
If have a brand Store page
SB Store Ad (for branded terms)
SB Store Ad (non-branded search terms)
SB Store Ad (Product Targeting)
SB Category Targeting

If brand registered
SB Video Ad (branded terms)
SB Video Ad (non-branded search terms)
SB Video Ad (Product Targeting)


Management and Optimisation of the Amazon Advertising Campaigns
The granular details of campaign optimisation vary from account to account, but from a higher level approach we follow these processes:
Discovery of new search terms and competitor ASINs that generate sales (from campaigns such as Automatic, SP Manual Broad and D Category Targeting).
Optimise performance by adjusting cost per clicks (CPCs) of specific search terms and ASINs (from campaigns such as SP Manual Broad and SD Product Targeting) .
In most cases the goal over time is to have a campaign that contains highly optimised (profitable) search terms or ASINs that drive consistent sales. However, there are occasions where campaigns may run at what appears to be unprofitable and under-optimised levels, but because they are driving organic rankings for high volume search terms or building brand awareness they are actually performing as they should.
Keyword and ASIN Discovery and Migration
Campaigns such as SP Automatic, SP Manual Broad, SP Category Targeting and SD Category Targeting campaigns play a big role in discovering search terms and competitor ASINs that are both relevant to your product(s) and generate sales. When a new sale generating search term or competitor ASIN is discovered is it migrated over to a campaign where its CPC can be controlled to a finer level.
Keyword and ASIN Optimisation
It is quite often desirable to fine tune how much you pay per click for individual search terms or on competitor ASINs. If this is the long term strategy we are following we (with the support of Enterprise level software – as discussed below) continuously monitor and adjust the CPCs of individual search terms and ASINs.
Each campaign type has its own goals that include keyword discovery, keyword optimisation, keyword ranking, brand awareness, cross-promotional and education. We will create and maintain campaigns so that collectively they support the long term strategy we have put in place to ensure your products (and brand) are successful in Japan.
Enterprise Level Software
There is a lot of manual set up, maintenance and optimisation of advertising campaigns, however we also use two main pieces of software to ensure we can give your campaigns the very best attention.
Prestozon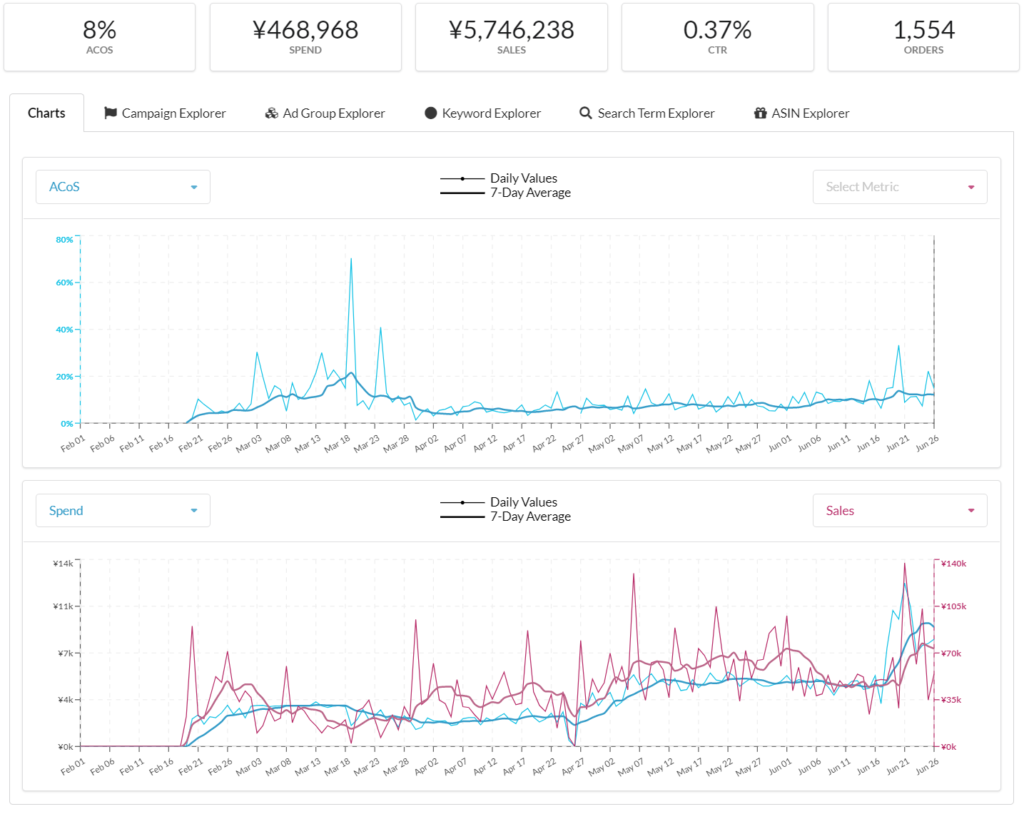 Prestozon is a leading enterprise level platform that helps us monitor, analyse and automate some aspects of your advertising campaigns.
Dash Applications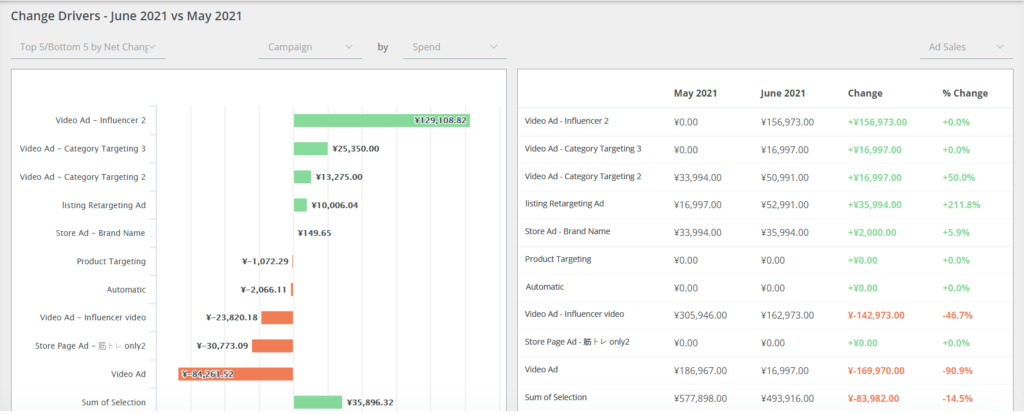 Dash Applications allows us to drill down and identify why specific campaigns are performing poorly (or strongly) month on month. This allows us to pinpoint the main drivers for these changes so we can make the necessary changes to improve campaigns performance moving forward.
Partner with us.
If you would like to work with us to set up and manage your advertising on Amazon Japan then get in touch and lets talk.