The client is a UK business who was looking to get some exposure in Japan for their brand. They currently have four products selling in Japan, but here I will focus on one product in particular (which was the first product they launched in early 2018).
CLIENT GOALS
Something we've learned over our time working with clients from all over the world (as well as selling our own products) is that you need clear goals. If you do not have a focus you can easily start spending sporadically and you will likely lose money (and you probably won't make many sales either).
Our client's short term target was relatively conservative. They were testing the market and set a level of consistently hitting five sales per day. They also wanted an ACOS of below 25%, but that was secondary.
We always say that ACOS targets come 2nd and sales targets come 1st. The reason for this is because if you get bogged down in achieving a low ACOS before you have established a good sales history then your sales will dry up. Yes you may have a 10% ACOS, but you will also have only a handful of sales to go with it.
How to get a sales history on Amazon
When you have a brand new product in a brand new marketplace there is the inevitable dilemma of how you get sales traction. Even the best listing in the world needs sessions (i.e. people looking at it), and when there are lots of similar products on Amazon that already have some sales traction you are not going to show up much.
Amazon Sponsored Products
Amazon is changing up its advertising offerings all the time, but at the time of writing there are two main options for normal sellers (Seller Central sellers). These are:
Sponsored Products
Sponsored Brands
We'll focus only on Sponsored Products, which is what we do most of the time when we work with new clients at Rising Sun Commerce.
Amazon Sponsored Products can be broken down into two more sub-categories:
Keyword Targeting
Product Targeting
We will focus only on Keyword Targeting, which uses a pure keyword Pay-Per-Click (PPC) advertising model. What this means is that you bid a certain amount of money for each search term (keyword) an Amazon customer types into the Amazon search bar. If your product advert shows up and the customer clicks on it you get charged for this click. The customer then ends up on your listing, which is the 1st part of the puzzle. The 2nd of course being the sale.
The most important thing to note here is that you are trying to identify customer search terms that not only get clicked on but also lead to sales. The less clicks needed for a sale the better. This is known as the conversion rate: orders / clicks = conversion rate.
Back to the case study…
Our client wanted five sales per day. Their product's main category was Beauty, so we used our internal BSR tool to estimate that they needed a BSR of between 3000 to 4000 to achieve five (organic / non-paid for) sales per day consistently. This was our target #1.
How did we achieve this BSR?
First of all we created a great EBC listing on Amazon Japan.
Next we setup an Auto campaign as well as Broad, Phrase, and Exact Match campaigns under Amazon Sponsored Products. Sometimes we do not jump straight into the Phrase and Exact Match campaigns, but in this case we could identify with high accuracy what the main search terms were for this product.
The Auto campaign was setup to discover new search terms that may be useful either now or in the future. We could have possibly skipped the Auto campaign because we were pretty sure of the main search terms, but we took the decision to start it from the onset just in case some gold nuggets came from it (i.e. customer search terms that converted highly).
Improving the Amazon BSR (Best Seller Rank)
To repeat, products are positioned in the Amazon Best Seller Rank (BSR) based on the number of sales they achieve. So, following this logic we wanted to start generating sales for our client's product at a level of 5 per day as quickly as possible.
When you start a Best Seller ranking campaign like you need to forget about ACOS. All you are interested in is sales. ACOS comes later once you have met your sales targets.
The Results

The figure above tells the story. Well, the start of the story anyway.
We started working with this product in January 2018. You can see that the BSR was jumping around the 40,000 to 60,000 mark up until the 10th January, which was when we started the Ranking Campaign.
Amazon Product Ranking Campaign
We dropped the price from 1,999 Yen to 1,499 Yen to increase conversion rates by making the product more competitive compared to other similar products on Amazon Japan. We also got a 5 Star review so we weren't selling with zero reviews.
We had identified one search term in particular to be both high volume and very relevant to the product, so we focused solely on this to start with. It was a pretty general word and we set up Broad, Phrase, and Exact Match Manual campaigns to target it (and its closely related variations).
Amazon BSR – Best Seller Rank
Looking at the image above you can see that the BSR dropped steadily over the course of the 1st month to approximately the 3000 position, which was our target. It was not a sudden drop to this level, mainly because we had a relatively conservative budget and also Amazon takes time to determine relevancy and to build up its sales history.
DATA BREAKDOWN
Month 1 – 31 days (January 2018)
Advertising Spend: 85,316 Yen (~ £595)
Advertising Sales: 103,431 Yen (~ £725)
Advertising Clicks: 1,133
Advertising Orders: 69
Conversion Rate: 6%
Total Orders (Paid + Organic): 112
Total Revenue: 167888 Yen (£1,175)
Average Daily Orders: 4
Start BSR: 33,600
Lowest BSR: 2,588
Month 2 – 28 days (February 2018)
Advertising Spend: 115,231 Yen (~ £805)
Advertising Sales: 202,365 Yen (~ £1415)
Advertising Clicks: 1,872
Advertising Orders: 135
Conversion Rate: 7%
Total Orders (Paid + Organic): 224
Total Revenue: 335776 Yen (~£2,350)
Average Daily Orders: 8
Start BSR: 5,729
Lowest BSR: 2,518
SUMMARY
It took less that 1 month to go from zero sales per day to averaging over 6 per day, taking the BSR from 30K+ all the way down to the 3000-7000 range. We hit our clients main goal in just 1 month.
We carried on with the ranking campaign because Amazon needs sales data of a longer period if it is going to fully establish the BSR position for this product.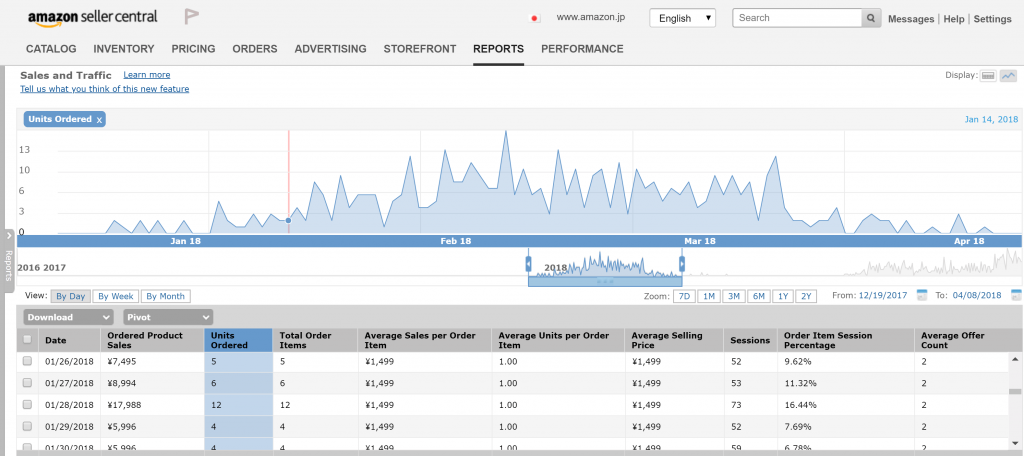 Things continued to progress in February 2018 with sales being consistently between 7 to 10 per day. BSR stabilised around the 3000-5000 range. The last 2 weeks in February really kicked on with sales increasing, ACOS dropping ( 39% in last 2 weeks of February compared to 82% in January) and the cost per click (CPC) dropping from 75 Yen (£0.50) to just 44 Yen (£0.3) as the products relevancy score improved with Amazon.
Coupled with the increased sales the clients Amazon seller account gained 5 positive Seller Feedback reviews and 4 x 5 star and 1 x 3 star Product reviews.
The overall picture was looking promising and we'd established a strong platform for future growth…
The Bad News 🙁
The client only shipped across 420 units and by the end of February, just 2 months in to this launch, we were down to just 82 units. Despite our continued communication with the client, no new inventory was going to arrive in the foreseeable future. This was a real shame to say the least because we had shown clearly that this was a good product for Japan and we were achieving the clients goals.
We decided to scale down the Amazon advertising and increase the sale price of the product to generate as much profit as possible for the client with the remaining products.
After all units sold out we wrote up a detailed report for the client. It was apparent only then that the client did the client fully appreciate the position we'd got the product to.
Unfortunately the client (without communicating with us) was fixated on immediate profits, and saw the lack of overall profits with this initial launch batch as a failure.
However, on reflection the client realised that the outcome of this launch was very successful considering it was a brand new Amazon seller account, a brand new product in a relatively competitive market with no brand awareness, no sales history, and only 1 review.
After the client digested the information they decide to restock this product in Japan, and also launch 3 new products. I'll not discuss the 3 new products, but I will cover how this existing product did when we re-launched it using the exact same strategy as before.
Re-Launching on Amazon Japan
Again we took our main keyword and ran a Broad, Phrase and Exact Match campaign with the aim of generating sales so we could improve the BSR. We did not re-start the Auto campaign because we wanted to conserve all the budget for improving BSR. The sales goal was the same as before, around 5 sales per day consistently.
NOTE: Re-launching a product is a lot more difficult than launching a brand new product on Amazon. New products have what is know as a honeymoon period where Amazon gives the product more visibility than normal so it can judge if the product is relevant. Existing products have a sales history and existing relevancy score, so a prolonged period of zero sales is bad and needs to be overcome before BSR can be improved.
The new batch of products arrived in August 2018, so there was a period of at least 4 months of zero sales, which is not good.
Also, when the new batch of products arrived in Japan a lot of basically identical designs of this product had popped up in the market, likely from Chinese sellers. These new competitors were selling at a very low price, which made the job of re-launching even more difficult.
We were very conservative to start with because our client was worried about ACOS being too high. But in October 2018 they decided to focus on improving BSR.
DATA BREAKDOWN
RE-LAUNCH Month 1 – 31 days (October 2018)
Advertising Spend: 37,617 Yen (~ £260)
Advertising Sales: 38,539 Yen (~ £270)
Advertising Clicks: 831
Advertising Orders: 37
Conversion Rate: 5%
Total Orders (Paid + Organic): 51
Average Daily Orders: 2
Start BSR: 39,170
Lowest BSR: 5,249
RE-LAUNCH Month 2 – 30 days (November 2018)
Advertising Spend: 39,116 Yen (~ £275)
Advertising Sales: 65,494 Yen (~ £460)
Advertising Clicks: 1070
Advertising Orders: 67
Conversion Rate: 6%
Total Orders (Paid + Organic): 123
Average Daily Orders: 4
Start BSR: 14,663
Lowest BSR: 4,939
RE-LAUNCH Month 3 – 10 days (December 2018)
Advertising Spend: 15,862 Yen (~ £110)
Advertising Sales: 42,425 Yen (~ £300)
Advertising Clicks: 463
Advertising Orders: 34
Conversion Rate: 7%
Total Orders (Paid + Organic): 58
Average Daily Orders: 6
Start BSR: 8,141
Lowest BSR: 4,559
RE-LAUNCH SUMMARY
720 units were sent to Japan in this 2nd batch. Ideally, based of the performance of the 1st batch of products more units would have been set to Japan fulfilment centres. However, as long as we could reorder new inventory before this 2nd batch ran too low it would be fine.
Up to the 10th December 2018, 296 units have been sold, so there are approximately 450 units left in stock, which at a rate of 6 sales per day meant there were about 2.5 months before out of stock.
Considering standard re-order time scale is 2 months (minimum) and the fact that the Chinese New Year was approaching (all manufacturing stops in February) was apparent that the client would not re-stock.
We were looking to push to 10 sales per day by the end of December and then grow sales even more in January 2019. However, there was no point in spending to improve BSR any further so we have taken the decision to reduced advertising spend significantly to make the 450 remaining units as profitable as possible.
To date the product has 17 review and the seller account has 10 positive feedback.
CONCLUSION
Launching and improving a product's Best Seller Rank (BRS) in Amazon is definitely achievable using Amazon Pay-Per-Click advertising (AKA Sponsored Products).
In fact, because you can easily see what customer search terms are converting into sales and how other important metrics are changing over time, you can control how quickly you move up the BSR.
There are some very important factors to monitor when running BSR campaigns. As we have shown here there needs to be a long-term commitment to both the strategy and also maintaining good stock levels.
Without this commitment all the planning and work involved in pushing the products up the best seller ranks are wasted, not to mention the investment in cash and time.
If you are planning on running your own launch / BRS boost campaigns you should:
Have a clear target (sales / BSR etc.)
Select good keywords to generate sales (high search volume / acceptable conversion rate etc.)
Strong inventory level or scheduled re-stock dates to avoid going out of stock
Committed budget for Amazon advertising
Commitment to allow enough time to reach targets
DO YOU NEED ANY HELP?
Are you currently selling on Amazon Japan and need help to improve sales?
Are you planning on selling on Amazon Japan?
We're here to help – GET IN TOUCH NOW and see how we can work together.
If you want to learn more about selling on Amazon Japan read this…