UK Fulfillment by Merchant on Amazon Japan
If your product is relatively small and light then using the Fulfillment by Merchant option to sell your UK products on Amazon Japan is a viable option. Basically it is the same as posting to a location in the UK, except with a few important differences.
Posting from the UK to Japan
If you have chosen Fulfillment by Merchant on Amazon Japan then when someone places an order you will get a notification within your Amazon Japan dashboard (and also by email if you have email notifications set up).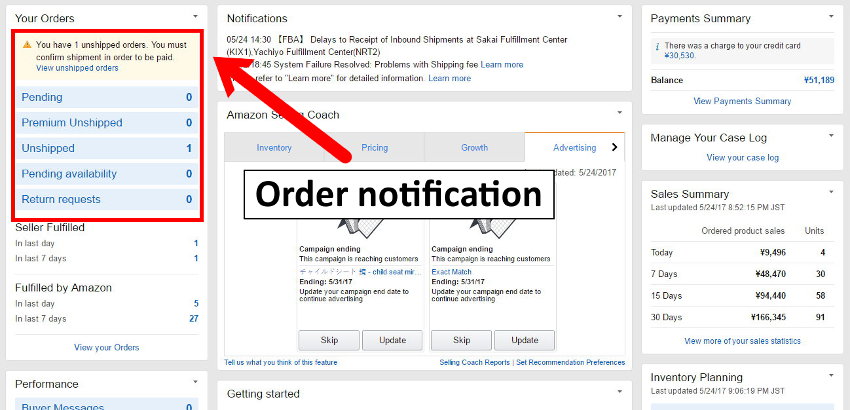 Clicking on the 'Unshipped' tab will open up the order information, as shown in the screenshot below.

The first thing you need to do is select 'Print packing slip' and then print off the packing slip details. The top section is the address so you can cut this off to stick onto your packaging (Jiffy bag, box etc.). Of course this is all in Japanese, so you should write 'JAPAN' on to the address label.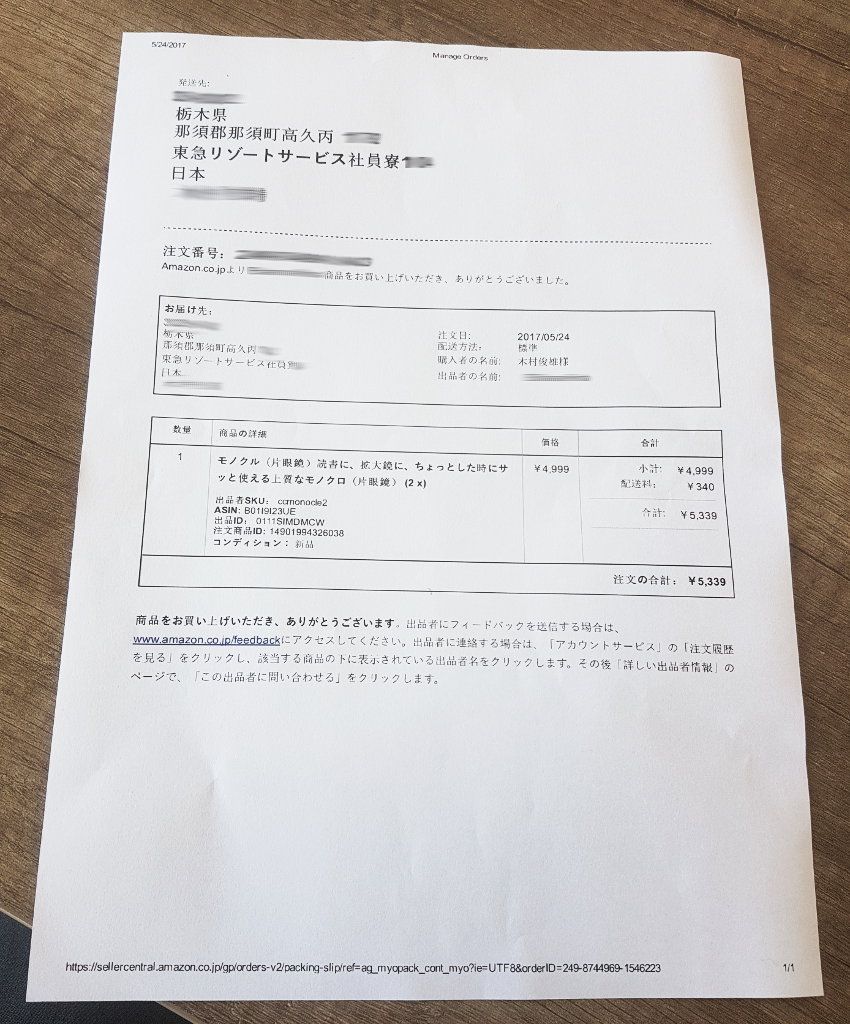 When sending from the UK to Japan you need to complete a customs sticker and stick this to the package. The Post Office gives you this customs sticker and it is a simple process. The easiest option is to check the 'Gift' checkbox and put in a simple description of what the product is. Ours was a glasses lens, so we put 'Glasses lens'. Put in an approximate value of the product in the 'Value' section. If your product is over £20 the Post Office will offer you some kind of cover/insurance postage option. It is up to you if you choose this. We generally do not for our product that sells for 4999 Yen (approx. £35).
NOTE: We charge postage on top of this 4999 Yen, so you need to figure out if your customers are willing to pay for this extra cost. Using FBA means Prime customers not only get next day delivery but it is also free. This is an obvious advantage and will increase sales.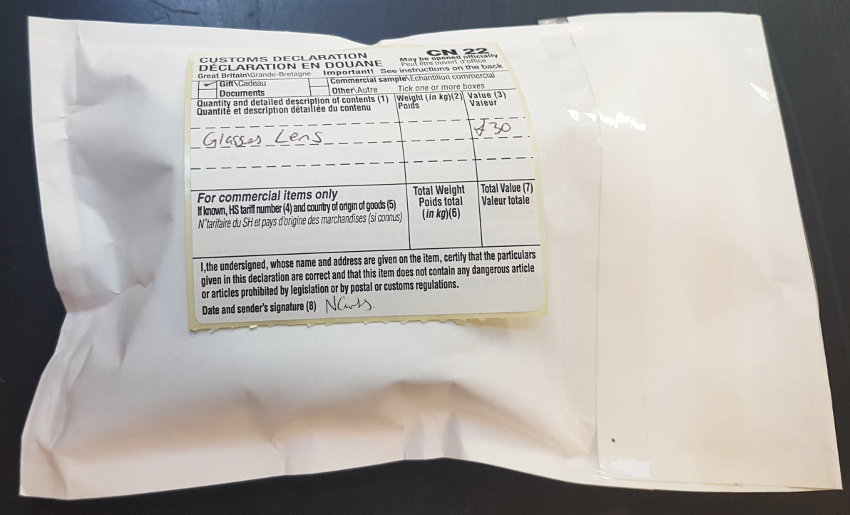 Sign the customs slip at the bottom and stick it to the package. The final thing to do is to write your name and address onto the package in case it needs to be returned to you.
That's it, hand it over at the Post Office and they will send it off. They may ask for some address details for your receipt, but all they will need is the ZIP / Post Code which is generally the top numeric code on the address slip. Also they tend to ask for house number, which is on the address slip. If you do not provide this information they can still post it, but it means it will be harder for you to dispute a failed or damaged delivery.
Don't forget to mark your order as sent! – After you post your product off to Japan head back to your Amazon Japan dashboard, click on the 'Unshipped' link and select 'Confirm shipment'. Make sure you confirm the shipment because if you do not two things happen:
You don't get paid
Amazon gives you a black mark for not posting quick enough
You need to make sure Amazon looks at you as a good seller, so getting black marks against your account can mean it does not value you as a trusted seller and this can affect your listing and account performance. Make sure you post your item quickly and then mark it as sent in your account.
Time and cost of posting to Japan
For our small package it costs £4.45 to post to Japan and takes about 7 days. We are lucky that our product is very niche and there is minimal competition on Amazon Japan. Therefore customers are willing to wait 7 days. If there was higher competition then we would use Fulfillment by Amazon (FBA), which is what we do for another product we sell – This product here.
FBA means that you store your products in Amazon warehouses out in Japan and then if someone orders your product Amazon handles all packaging and postage. It also means you do not have to worry about sending things off quickly or updating your account to mark as sent. Amazon takes care of everything.
Summary
Amazon Fulfillment by Merchant from the UK to Japan is definitely an option for a lot of UK sellers. In fact if your product is small and light enough it is a good way to test the waters in the Japanese marketplace. However, for larger products or when you are selling higher numbers of products then Amazon Japan FBA is a better option.
Our office is located close to a Post Office but it still took 30 minutes in total to walk over there and post the product off to Japan. There was also the printing of the packing slip and packing preparation to add to this. Because this product is a relatively new test sample we are willing to do this, but as sales increase we will send a larger batch out to Japan and store them in the Amazon Japan warehouses and use FBA.
Storing in Japan also allows buyers to choose Amazon Prime next day delivery, which not only means they get their order the very next day but it also means they get it delivered free if they have Prime. This undoubtedly increases sales over non Prime products on Amazon Japan.
If you are currently using Fulfillment by Merchant and want to start using FBA in Japan then get in touch. We can help ship your products into Japan warehouses.
Alternatively, if you are yet to get started selling on Amazon Japan, see how you can get started today for just £19.99.
FREE SELLER GUIDE & 16 STEP LAUNCH PLAN

We wrote this guide to help you better understand selling on Amazon Japan. With this information, you can make an informed, intelligent decision as to whether selling on Amazon Japan might be a good fit for you.
Whether you've got 1 or 1,000 products, this guide will help you understand more about selling on Amazon Japan.
Even if you're not ready to start yet, this is an unmissable reference.
In the Seller Guide you'll learn...
Why selling on Amazon Japan is a fantastic opportunity.
5 Misconceptions about Selling on Amazon Japan.
How to avoid translation mistakes.
The 16 Step Launch Plan includes...
16 sequenced emails with direct actionable tips;
How to carry out research;
Advice on creating your strategy for success in Japan;
How to set-up your account and listings right;
Guidance on getting Brand Registered.